Mercedes Me Connect Store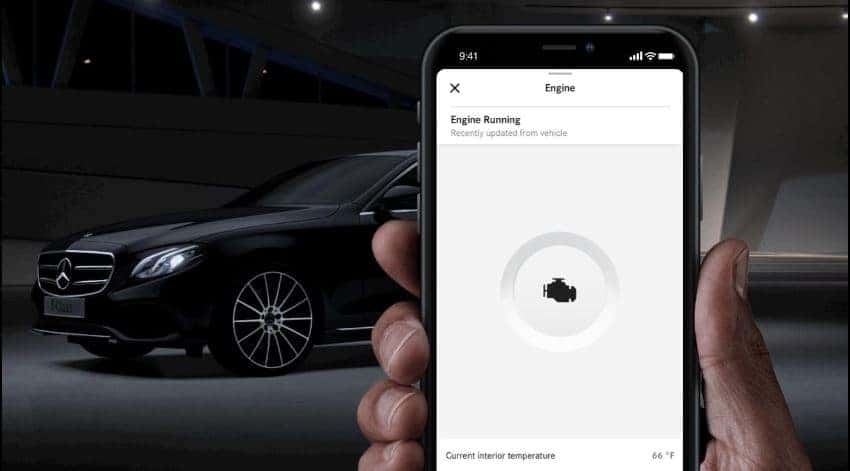 Mercedes Me Connect lets you access your vehicle from the palm of your hand!
Mercedes Me is the digital extension of your Mercedes-Benz, whether you're starting the engine, getting customer support, or checking your fuel, Mercedes Me Connect makes it that much easier.
Through the Mercedes Me app you can access your vehicle in many different ways including, starting your engine from anywhere, remotely locking and unlocking the doors, locating your vehicle, and getting important vehicle information such as mileage, fuel level, and tire pressure.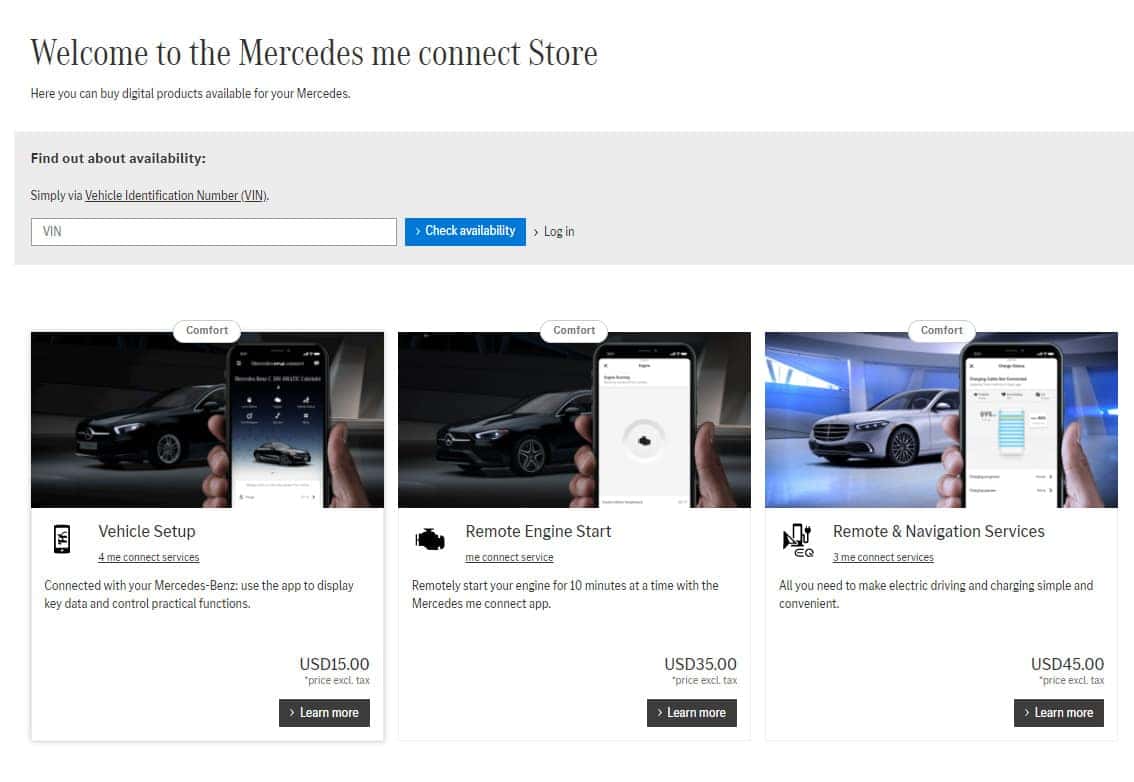 All of these helpful features, along with many others, can be found in the Mercedes Me Connect Store.
The Mercedes Me Store allows you to purchase digital products and packages that are available for your Mercedes-Benz. It features product offerings and digital upgrades including;
Live Traffic ($50/yr) – Modifies your route automatically by reference to current traffic information
Remote Engine Start ($35/yr) – Start your vehicle via the Mercedes Me Connect app
Dash Cam ($200) – Records parts of your trip using technology already in your Mercedes
Steps for purchase:
Go to shop.mbusa.com
Log-in with your Mercedes Me Connect account
Browse products and add to cart
Check out
Accept Terms of Use
Services will automatically be extended or activated shortly after purchase
Available in the Mercedes Me Connect Store*
Vehicle Setup – $15 Annual Fee (4 me connect services)
Connected with your Mercedes-Benz: use the app to display key data and control practical functions.

See live vehicle status information, e.g. for fuel level or tire pressure via smartphone
Save profiles in the vehicle with personalization options
Remote locking and unlocking of doors
Notification by smartphone when interior or exterior vehicle alarms are active (only available on certain models please refer to Overview of Services on https://www.mbusa.com/en/legal-notices/connected-vehicle)
Remote Engine Start – $35 Annual Fee (1 me connect service)
Remotely start your engine for 10 minutes at a time with the Mercedes me connect app.

Remote engine start via the Mercedes me connect App
Activation of the most recently used climate control settings
Engine shut-off after ten minutes
Display of current temperature inside vehicle and remaining time in Mercedes me connect App
Remote & Navigation Services – $45 Annual Fee (3 me connect services)
All you need to make electric driving and charging simple and convenient.

See current electrical range at a glance on the map
Call up charging status and program pre-entry climate control
Know and navigate to charging stations near your vehicle
Live Traffic Information – $50 Annual Fee (2 me connect services)
Getting you quickly and safely to your destination: traffic data in real time on the navigation system – for optimized dynamic route guidance.

Dynamic route guidance based on real-time traffic data for shorter journey times
Detailed information on alternative routes and arrival times
Timely warning of danger spots thanks to information from the connected network
Online Map Update – $40 Annual Fee (1 me connect service)
Always on track and fully updated: The Online Map Update automatically updates your navigation data.

Automatic updating
Access to up-to-date navigation data
Updating of individual map regions via mobile network
Convenient updating of maps for all countries by downloading from the Mercedes me connect Portal
Navigation Services – $30 Annual Fee (4 me connect services)
The best orientation on every journey: You will effortlessly find your way with the Navigation Services.

View parking options at your destination (based on availability)
Overview of current weather situation on the map
Request weather information and forecasts on the multimedia display
Navigate straight to points of interest at any location
Mercedes-Benz Navigation – $550 One-Time Fee (on-demand feature)
For a fast and safe arrival: latest-generation Mercedes-Benz Navigation

Revolutionary voice control with natural speech recognition
Faster arrival with real-time Live Traffic Information and dynamic route guidance
Car-to-X Communication for information about accidents, roadworks or weather hazards
AMG® TRACK PACE – $250 One-Time Fee (on-demand feature)
Your personal racing engineer: measure your performance and move up a gear.

Precise recording of acceleration times (e.g. from 0 to 60 miles per hour) to a tenth of a second
Measurement of lap and sector times on known or self-defined race tracks
Visualization of racing performance on multimedia display and Head-up Display
View racing parameters and video recordings on the multimedia display
Create and save separate driver profiles
Mercedes me Charge – $80 Annual Fee (1 me connect service)
Simple charging with cost transparency.

Link your Mercedes me connect account and charge up immediately using any of the providers in the Mercedes me Charge charging network
Full transparency: check fees at a glance prior to charging
Digital, central billing after charging is complete
Keep an eye on all costs: view charging history and payments on the Mercedes me Charge Dashboard
Vehicle Monitoring – $15 Annual Fee (3 me connect services)
Everything under control: Know where your vehicle is parked or on the move.

Location of your vehicle by smartphone
Display of your vehicle's most recent parked position within a radius of 1 mile
Notification of vehicle movements when using a valet parking service
Stolen Vehicle Assistance – $25 Annual Fee (1 me connect service)
Supporting local enforcement with vehicle theft cases.

Using Mercedes me connect to assist in stolen vehicle cases
Providing updates of the vehicle position data to local law enforcement
---
Note: After you have placed you order it may take several hours until you are able to use your digital product
*The usable package scope may vary, depending on your vehicle's equipment.
*Some Models may not be eligible for some or any of these products if you have any issues please contact your sales consultant to assist you.