Mercedes-Benz: The VISION AVTR – Concept Vehicle
The Mercedes-Benz VISION AVTR is a concept vehicle that combines luxury and sustainability through its innovative futuristic design, and use of natural resources. The VISION AVTR embodies the vision that designers, engineers, and trend researchers at Mercedes-Benz hope to see for mobility in the distant future.
This concept vehicle is inspired by the movie AVATAR and shows a completely new way for humans to interact with a machine.
Design
The "inside-out" design structure of the vehicle was inspired by several creatures from the movie Avatar, offering a futuristic and re-imagined design. 33 "bionic flaps" appear on the back of the vehicle giving it a reptilian look. The flaps can communicate through the driver by mimicking subtle movements.
With no conventional steering wheel, the VISION AVTR features a multi-functional control base in the center console. By placing a hand on the control base, the car will come to life, recognizing the driver by their heartbeat and breathing.
From a projected selection menu, drivers can choose from several different functions. One of the most impressive being 3-D graphics of Pandora, the fictional world of AVATAR, projected throughout the inside of the vehicle.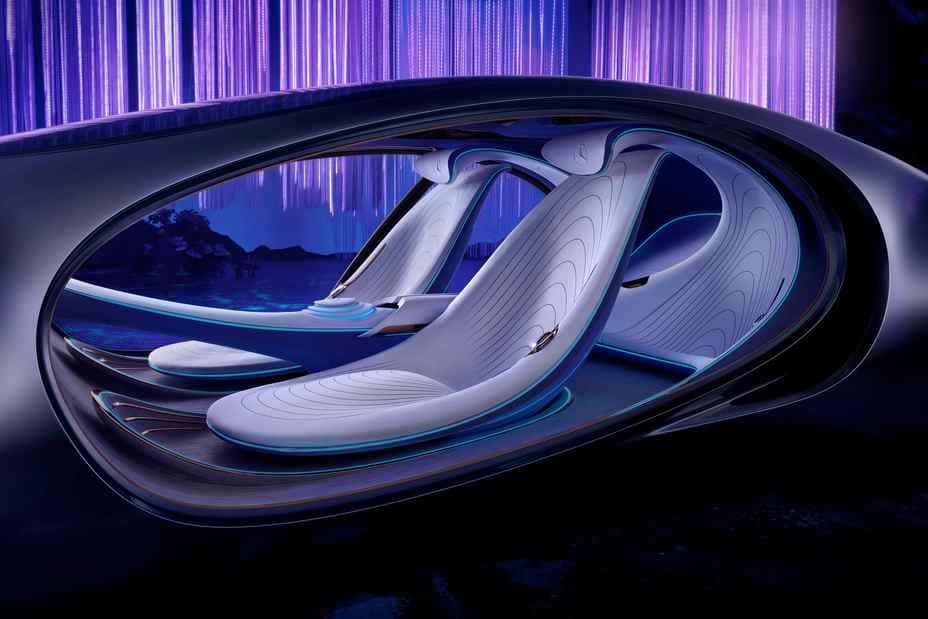 Sustainability
The VISION AVTR runs on a revolutionary battery technology that is free of rare earths and metals. The materials of the battery are completely recyclable, meaning the vehicle needs no fossil resources making it 100% recyclable. This also means the vehicle will not produce any CO2 emissions.
The seats inside the AVTR are made of vegan DINAMICA®leather, the first ,and only, microfiber that guarantees environmental sustainability throughout the entire production process. The floor of the AVTR is made of Rattan wood which grows quickly as a natural raw material. This wood is harvested by hand in Indonesia and adds another level of naturalness and sustainability to the vehicle.