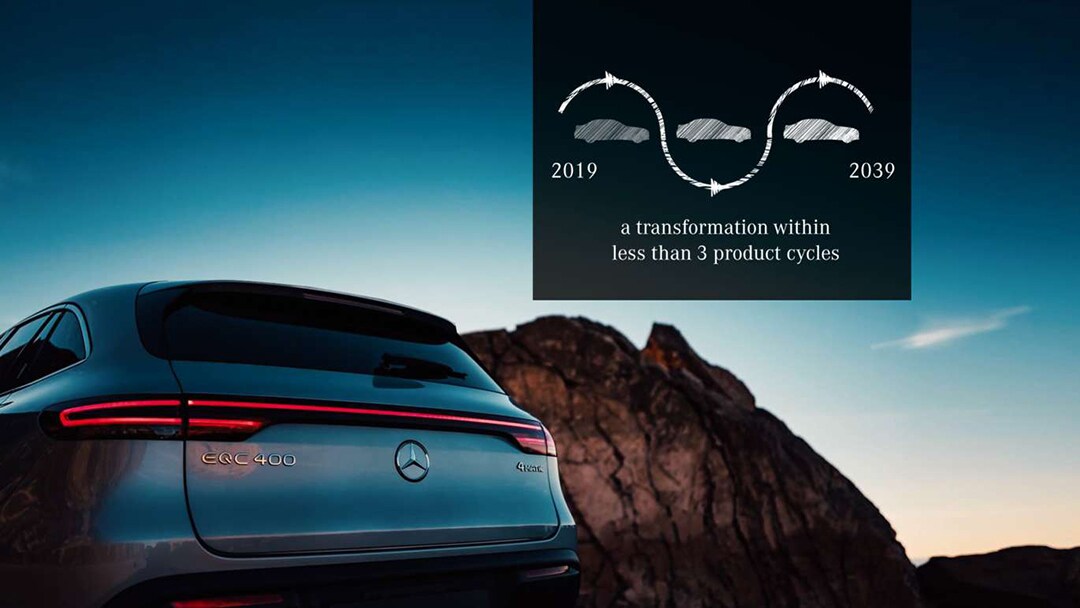 "First Move the World
– that's our purpose at Mercedes-Benz Cars. That's the deeper meaning of our work, what drives us, our "why". "First Move the World" means going for more than just immediate objectives. This inner unrest for what's next is part of our company's DNA. Therefore, it's also a cornerstone of the new sustainable business strategy we are currently working on. Although this strategy has several dimensions, one of the defining issues is how we address our CO2 footprint. At Mercedes-Benz we strive for the best and our customers expect us to deliver sustainable and fascinating mobility. So, one of the key questions we are addressing is this: What are we doing to make sure our customers can switch to carbon neutral mobility in the future? The answer is our Ambition2039."
Mercedes-Benz Ambition2039 is based on five main goals:
To have a carbon-neutral new passenger car fleet in 20 years: over the next 20 years, Mercedes-Benz Cars aims to have a carbon-neutral new passenger car fleet and aims to have plug-in hybrids or all-electric vehicles to make up more than 50% of its car sales by 2030.
To offer our customers a carbon-neutral driving experience: the electric offensive offers customers attractive products and access to convenient, user-friendly services.
Carbon-neutral production: European plants will have CO2-neutral production by 2022. Mercedes cars have a potential recycling ratio of 85 percent. So, it is moving from a value chain to a value cycle.
Drive the supply chain to follow this ambition: the goal is to establish CO2 targets as one key criteria in making supplier decisions and contracts across all major commodities
Inspire customers for carbon-neutral mobility and enable access to emission free driving: we want to inspire our customers to charge their green vehicles with green energy
To read Mercedes-Benz' full Ambition2039 plan, visit daimler.com.