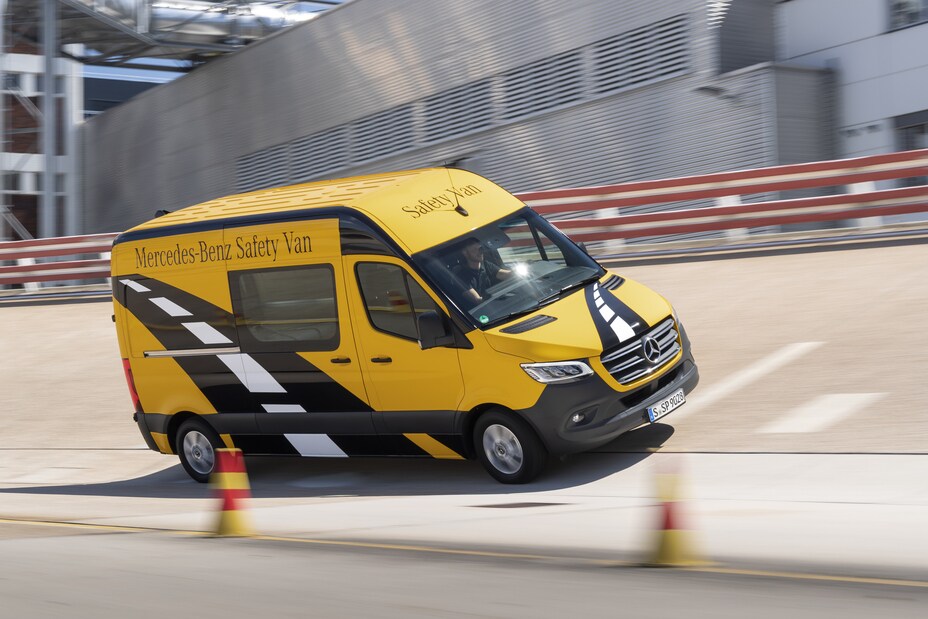 Flexible, reliable and above all, safe: The new Sprinter, presented in 2018, embodies all of these attributes to the highest level. With the new generation of this iconic van, Mercedes-Benz Vans underscores its role as a pioneer, driving innovation with the introduction of modern safety technologies in the large van segment. That's why the new Sprinter is equipped with a range of optional safety and assistance systems which, until now, were reserved exclusively for Mercedes-Benz passenger car model series. Among them, the radar-based systems Distance Assist DISTRONIC, Active Brake Assist and Active Lane Keeping Assist. Additionally, the optional Parking Package with 360-degree camera makes a significant contribution towards relieving stress on the driver. Crosswind Assist is standard, making driving considerably safer at higher speeds.
Advanced safety and assistance systems play a particularly important role in the large van segment. Vehicles used for commercial purposes are often used to cover great distances and, despite their comparatively large dimensions, must remain controllable even in difficult situations. In order to be prepared for the various transport tasks and driving profiles, the safety and assistance systems in the new Sprinter have been technologically enhanced. Evolution in comparison to the passenger car sector includes different challenges, for example, adaptation to vehicle dimensions, handling parameters and trip profiles in everyday fleet life.
"Whether in a sandy excavation on a building site, taking on strong crosswind gusts, maneuvering through dense city traffic or driving at a high speed: in all situations, a driver must have one-hundred percent control over their Sprinter. Especially in the large van segment, you need a prudent style of driving and effective electronic assistance. In the new Sprinter we have taken the safety we offer our customers to a new level, a quality with which this van becomes a unique offer, underscoring at the same time our role as a technological leader in the integration of technical solutions", explains Dr. Ulf Zillig, Head of Product Development at Mercedes-Benz Vans.
In-house accident research makes vans even safer
The emphasis on safety in vehicle development and its optimization is displayed by the commitment of Mercedes-Benz Vans to accident research. Since 2015, a team of specialists were assembled for this purpose. Since then, they have been working on van accident research in order to deduce opportunities for vehicle development that can significantly raise the safety level in this vehicle segment. The accident investigation routine includes the measurement of the vehicle and location. Van accident research has a Mercedes-Benz Metris at its disposal as an operational vehicle which offers plenty of space for the required equipment.
Research focuses on selected accidents involving Mercedes-Benz vans. The analysis of real cases proves to be especially valuable because many more variables are taken into account than in the prescribed safety tests carried out before the vehicle approval. The accident researchers can, for example, determine whether the airbags were deployed as intended. In addition, there are important indications as to whether vehicle components still have optimized their potential. Apart from measuring accident vehicles and locations, the range of investigations also includes dialogue with the vehicle occupants, who describe their subjective impressions.
The new Sprinter: intelligent, interactive and innovative
Since its market launch in 1995, the Mercedes-Benz Sprinter has given its name to an entire vehicle class thanks to its outstanding qualities. The new generation has been available for order since late 2018 and has been available in Mercedes-Benz commercial vehicle centers and Van ProCenters since late 2018. With safety features on the same level as passenger cars, Mercedes PRO connect digital fleet solutions, the innovative MBUX (Mercedes-Benz User Experience) multimedia system, a fascinating design and a multitude of options available including rear-wheel or four-wheel drive variants. The versatile Sprinter offers diverse transportation solutions for our valued customers.
For full details on the safety and assistance systems, visit Mercedes-Benz
newsroom.